• Richard Johnson • dungeons & dragons • fantasy • miniature • Miniature game • miniatures • Pathfinder • Pulp • Roleplaying game • RPG • scenic • terrain • TTRPG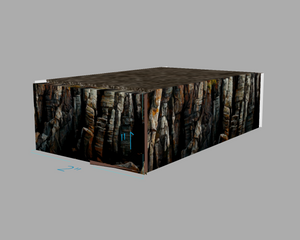 It's been a crazy year with lots of changes, but back working on our low cost terrain and scenic solutions. One of the areas I have wanted to fill out is cliffs. We have a nice rocky terrain battle mat and I wanted to be able to add cliffs to it. Again, keeping the cost low and convenience high. The question was how to do this without making the pieces so fiddly that you cannot set up easily.  I believe I have found the solution and working on the prototypes now. If you're going to be at PAXU, I will...
---
• Richard Johnson • card game • Jade Hood • Pulp • villain
We are planning to launch the Kickstarter for nab 'Em soon. With the hope to have product available at PAX Unplugged in November. This is one of the high value cards. Worth 7 points, he is a prize to be sought.