• Richard Johnson • battleground • card game • fantasy • Vampire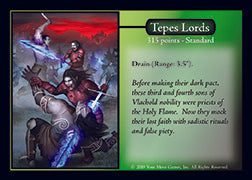 by Marcus Geigrich Battleground: Fantasy Warfare has quite a few unique factions and the Lords of Vlachold are certainly a standout faction in that regard. The faction goes beyond a strict vampire theme into an overarching horror theme. The Vampire units are really just the top of the command hierarchy while the bulk of the army consists of the human Vlachold nationals with the occasional scary monster unit sprinkled in.  In fact, it is possible to play the faction without using any of the vampire units against certain opponents. This article is intended to be an introduction to the faction...
---
• Richard Johnson • card game • Jade Hood • Pulp • villain
We are planning to launch the Kickstarter for nab 'Em soon. With the hope to have product available at PAX Unplugged in November. This is one of the high value cards. Worth 7 points, he is a prize to be sought.