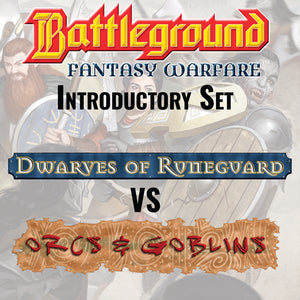 Rattrap Productions
Battleground Fantasy Warfare Intro Set
If you have wanted to try Battleground Fantasy Warfare but have not wanted to commit to buying a $30 box, then this is the deal for you. We have taken some of our Dwarf and Orc starter boxes and broken them into small Intro sets.
The sets contain:
5 Dwarf Unit cards
5 Dwarf Command Cards
5-6 Orc & Goblin Unit cards
5 Orc & Goblin Command Cards
1 Quick Reference card
1 Scenario card from our Kingdoms deck
1 Special Situation card from our Kingdoms deck
1 Quick Start Rulebook
These are factions of slightly under 1000 points and should give you an idea of how the rules play. 
---
More from this collection