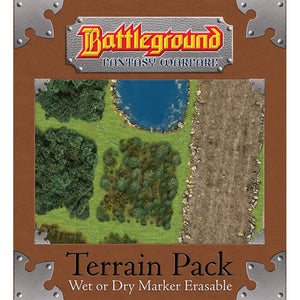 Rattrap Productions
Battleground Terrain Pack
Battles are won and lost by the choice of battlefield. An army can anchor its flank on a deep marsh, or achieve victory by holding the high ground, or stymie an enemy's advance by defending the river crossing. A wise general is one who understands not just the enemy but also the lay of the land.
The Battleground: Fantasy Warfare Terrain Pack has 7.5 square feet of double-sided terrain that opens up additional tactical options and keeps your battles varied. Fight in the depths of a deep forest or to keep a key supply road open – the possibilities are nearly endless.
​The Terrain Pack can be used in conjunction with with our card game Battleground or any other wargame or tabletop RPG. 
Extra Large Hill
Large Hill/Marsh
Large Forest/Lake
2 Small Hills/Scrub Patches
2 Small Forests/Rocky Ground
1 Small Marsh/Forest
1 Small Hill/Lake
1 Small Scrub/Forest
4 Road/Ridge sections (40" total length)
4 River/Coastline sections (40" total length)
1 Bridge/Crossroads
1 River Ford/Obstructed Road section
3 River bend/Road turn sections
2 Long Hedgerows/Stakes
2 Short Hedgerows/Stakes
2 Long Wood/Stone Wall sections
2 Short Wood/Stone Wall sections
---
More from this collection