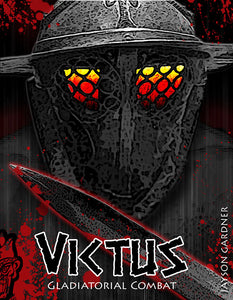 Sinister Laboratories
Victus: Gladatorial Combat (Softcover Version)
The Ancient world's most deadly combat sport returns! Grab some friends and drag them into the sands of the arena for the ultimate competition in Victus, from Iron Ivan Games!
Play one off games to settle old scores or immerse yourself in the Ancient world using the Victus Campaign system. Gladiators battle to win their freedom or to gather glory as you advance in both wealth and skill. Think wielding the Gladius is just for on the sands? Think again as the Fortuna tables expand your fate beyond the arena. Victus is a complete stand alone game that puts you in control of one history's greatest fighting machines using Dynamic Movement, Abilities Pooling and pure Cunning!
Don't think you need to spend a fortune on pieces or a life time building a Coliseum, Victus also comes with it's own board and Paper models to get you to the sands fast! Test your mettle, make your mark, become the next Victor! Included with your purchase, pages allowing you to preserve the record of your Gladiator, as well as the printable board, printable counters, and printable stand up paper Gladiators also found in the rulebook
Rules by Jayson Gardner.
---
More from this collection