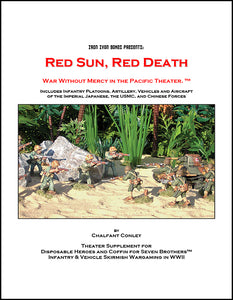 Sinister Laboratories
Red Sun, Red Death: War without Mercy in the Pacific Theater (PDF Version)
This is the PDF version of Red Sun, Red Death. By purchasing this, you will receive a link to download the digital version of the rules, not a printed book.
Pacific Theater supplement for our Disposable Heroes and Coffin for Seven Brothers. Red Sun, Red Death features platoons, artillery, vehicles, and aircraft for Imperial Japanese forces, USMC, and Chinese.
This is useable with Disposable Heroes 2.
---
More from this collection