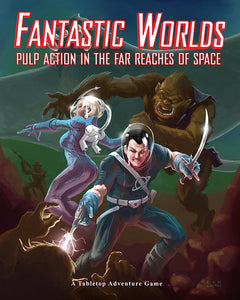 Rattrap Productions
Fantastic Worlds (PDF Version)
This is the PDF version of the rules. By purchasing these, you will receive a link to download the demo version of the rules, not a printed book. 
Fantastic Worlds: Pulp Action in the Far Reaches of Space is a tabletop miniatures game that simulates all the worlds-spanning action of the era of pulp magazines. Players can take on the roles of colorful heroes or unscrupulous villains. With ray guns, blasters, and phasers they can fight their way through the minions of interstellar crime or seek to control the universe.
This book contains all the rules necessary to play, customize heroes and villains, and create scenarios. Plus there are three sample scenarios to help you get started.
---
More from this collection