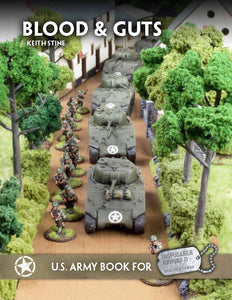 Sinister Laboratories
Blood & Guts 2nd Edition Supplement (PDF Version)
This is the PDF version of the book. 
Blood & Guts is the U.S. Army Supplement for Disposable Heroes II. This book contains all the platoon lists for the U.S. Army. It also contains the weapons, vehicles, and support weapons used by the U.S. Army in WWII.
It also contains 3 scenarios. These scenarios allow players to put their U.S. forces up against the Germans in two theaters (Italy and Normandy) covering three different types of tactical challenges (Defense, Attack, and Airborne Drop).
Finally, there is a short history and time line of the U.S. involvement in WWII and some end notes on how to use the book give players the complete Disposable Heroes II supplement they need to play the U.S. Army in WWII.
We hope you enjoy this book and find it useful. 
---
More from this collection