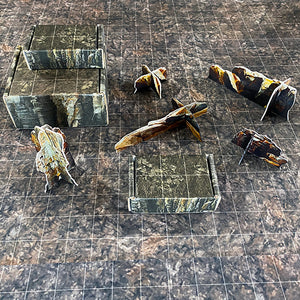 Rattrap Productions
RatMat Scenics: Cliffs, Pack I
This is the third RatMat Scenic Pack for the Rattrap Battle Map line. This set contains:
1x Large Cliff (4" x 3" x 2" height)
2x Small cliffs (3" x 2" x 1" height)
5x Scatter Terrain
Add another dimension to your battle map. Our cardboard cliffs allows you to add some height to the tabletop and have more cover for your miniatures to hide behind. Use them with our Cliff Battle Map to enhance your mountain or underground scenarios.
---
More from this collection